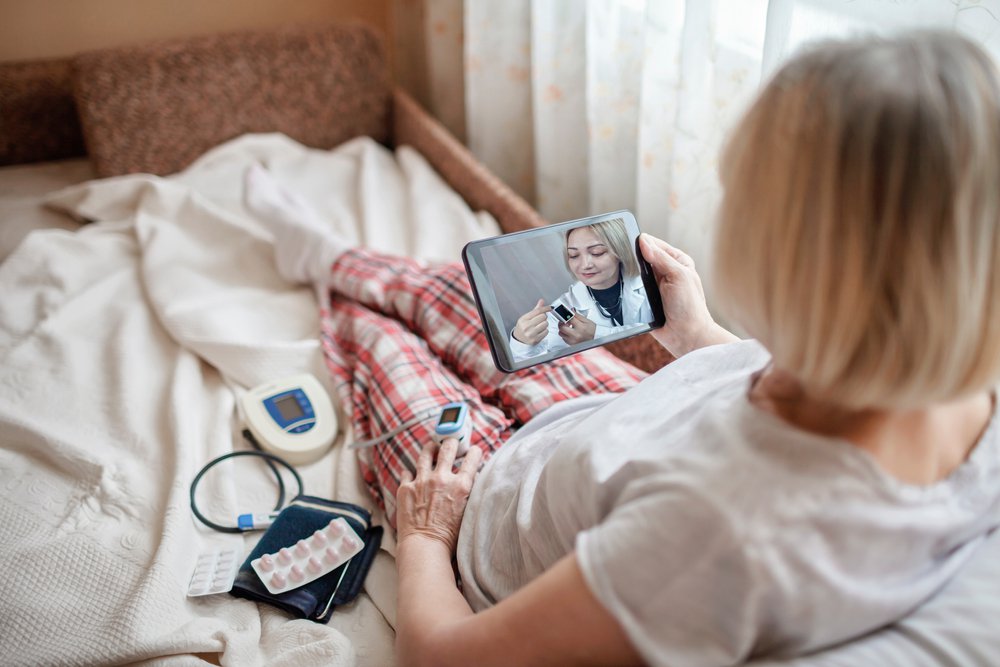 If you or a loved one have a chronic condition, you know how important it is to stay on top of your health and be in contact with your doctor. But sometimes, life gets in the way, making it hard to schedule or go to appointments, or even just remember to take your medications.
That's where remote patient monitoring (RPM) comes in. This new telehealth technology allows you and your doctor to closely track your health from afar, using digital devices and apps. Here's a look at how RPM works and how it can help you stay healthy and connected to your healthcare team:
What Is Remote Patient Monitoring?
If you're like most people, the term 'remote patient monitoring' (RPM) probably sounds a bit technical and complicated. But it's actually a pretty simple concept: RPM refers to the use of technology to collect and share health data between patients and their healthcare providers without the need for in-person visits. 
This can be done using a variety of devices and apps, including:
Blood pressure cuffs
Blood sugar monitors
Weight scales
RPM can be used to track a wide variety of health data points, including heart rate, blood pressure, blood sugar levels, and weight. This data can then be shared with your healthcare providers in real time, allowing them to closely monitor your health and make necessary adjustments to your care plan.
What Are The Benefits Of Remote Monitoring?
By giving your doctor remote access to your health data, RPM can help to improve the quality and efficiency of your care. This telemedicine technology, allows your health care practitioner to help you manage your chronic condition between visits, potentially helping you prevent serious complications or hospitalization.
RPM can also be beneficial for patients who live in rural areas or who have difficulty making it to regular doctor's appointments. This technology can help improve access and close the gap in care by allowing patients to receive the monitoring and support they need from their healthcare team, no matter where they live.
Plus, RPM can help keep you healthy while remaining in your own home. This can be a huge benefit for older adults or those with chronic health conditions that put them at risk for falls or other home accidents. RPM can give you and your loved ones' peace of mind, knowing that someone is always keeping an eye on your health.
How Can Other Telemedicine Services Help Me Or My Loved One?
There are many telehealth applications that have several advantages and clinical benefits! At Pittsburgh Health Partners, we're proud to offer a few telehealth technologies to our patients, including RPM, remote therapeutic monitoring, and virtual care visits.
Remote therapeutic monitoring is similar to RPM, but the term specifically refers to medication management. Specifically, our patients can get an easy-to-use dispenser and smartphone app through our partner, Perigon Pharmacy 360(opens in a new tab), to get help with taking their medicine on time, every day. Plus, they offer auto refills and 24/7 pharmacist assistance, so our patients can get the care and support they need, when they need it.
Meeting with your doctor through telehealth virtual visits, often used in tandem with RPM, is another great way to receive quality patient care with telehealth. There are many benefits of telehealth visits, like:
Receiving care from the comfort of your own home
Not having to take time off work or arrange for childcare
Reducing your exposure to germs and illnesses
Waiting less time to see your doctor
If you're interested in learning more about how RPM or any of our other telemedicine services can help you or your loved one, Pittsburgh Health Partners is here for you. We offer a variety of RPM and telehealth services to meet the unique needs of our patients. Contact us today to learn more about how we can help you stay healthy and connected to your healthcare team from afar.
Contact Pittsburgh Health Partners Today
Unlike other health care providers, our team goes above and beyond to ensure that our patients have access to the best possible care around the clock, no matter where they live. If you're interested in using RPM to manage your health, the first step is to talk to your primary care physician at Pittsburgh Health Partners. They can help you determine if this technology is right for you and, if so, which devices and apps would work best for your needs.
If you're not a Pittsburgh Health Partners patient yet, that's okay! We would be more than happy to help get you set up with the care and services you need.
Get the best healthcare services for you and your family. Schedule(opens in a new tab) an in-person or online appointment with Pittsburgh Health Partners today to get started.